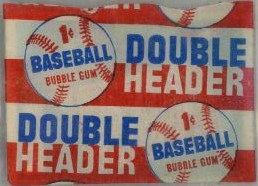 Original 1955 Topps Wax Pack, retail 1 cent (1 card).
Below are the Milwaukee Braves baseball cards from the 1955 Topps set.
Card #15
Jim Pendleton

Card #23
Jack Parks

Card #31
Warren Spahn

Card #35
Dave Jolly

Card #47
Hank Aaron

Card #81
Gene Conley

Card #103
Chuck White

Card #117
Mel Roach

Card #134
Joe Jay

Card #149
Ray Crone

Card #155
Eddie Mathews

Card #161
Chuck Tanner

Card #182
Humberto Robinson


If you have any pictures I am missing or one of a better quality, drop me an email.